This article was originally published on The Caregiver's Voice, January 20, 2015
I've been leading meditation retreats for caregivers for many years. But no matter how many retreats I lead, and no matter how many caregivers I meet, I am always touched by one thing: in spite of their apparent fatigue, most caregivers regard their service as privilege.
Whether they are family members, nurses, hospice workers, therapists, home health aides, or in another helping profession, caregivers feel a deep sense of compassion and purpose in their work. In my experiences working with caregivers, they are generally in touch with the joy and happiness that sustains their lives.
These are the benefits of caregiving. However, caregiving is also incredibly challenging work. Stress, heartbreak, and fatigue are all part of the caregiver's job description. Even for those of us with the best intentions, the possibility of burnout is always present. That's why it's vitally important that caregivers take care of themselves, so that they can continue to perform their compassionate work for others.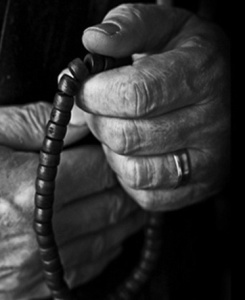 During the next caregiving retreat that I'll be leading—Health & Healing at the Garrison Institute–February 13-15, which will be co-taught with Ali Smith, Atman Smith, and Andres Gonzalez from the Holistic Life Foundation—we are going to focus on ways that caregivers can cultivate balance in their lives and work. We will practice meditation and yoga techniques that will help us balance love for ourselves and others, and balance compassion with equanimity.
If compassion is the spark that ignites us to respond to the suffering that we encounter, equanimity is the coolness that allows us avoid burning out during caregiving. When compassion and equanimity are in balance, we can sustain our desire to make a difference in the world while accepting our limitations.
Many years ago, while working with Roshi Joan Halifax on a curriculum for those involved with contemplative end-of-life-care, I developed a loving-kindness meditation meant especially for caregivers.
These are phrases adapted from that meditation that we can use to help us find the kind of balance that I'm referring to. Feel free to try some of these when you feel yourself falling into exhaustion or frustration while caregiving. You can alter the words so that they are more personally meaningful for you.
May my love for others flow boundlessly.
May the power of loving kindness sustain me.
May you be happy and free of pain.
May all those who suffer be free of pain.
May this experience in some way be a blessing for you.
May I offer my care and presence unconditionally, knowing it may be met by gratitude, indifference, anger or anguish.
May I offer love, knowing that I cannot control the course of live, suffering, or death.
May I find the inner resources to truly be able to give.
May I remain in peace and let go of expectations.
May I accept things as they are.
I wish you happiness and peace, and I cannot make your choices for you.
May this experience open me to the true nature of life.
May I see my limits compassionately, just as I view the suffering of others.